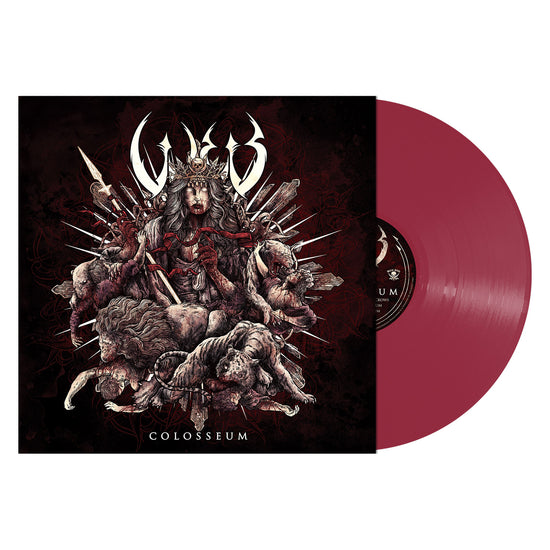 W.E.B. "Colosseum (Fruit Punch Vinyl)" 12"
Regular price

Sale price

$24.99

Unit price

per
Usually ships in 1 business days. This may be affected by holidays, promotions, local weather, etc.
W.E.B. "Colosseum" 12" Vinyl
-Officially licensed W.E.B. merchandise
SIDE A
01. Dark Web
02. Murder of Crows
03. Pentalpha
04. Colosseum
05. Dominus Maleficarum
SIDE B
06. Necrology
07. Ensanguined
08. Exaudi Luciferi
09. December 13th
Vinyl Features:
+ Fruit Punch Vinyl
+ Single Jacket
+ 2-Sided Insert
+ Digital Download Card
Born of the "necessity to scream, blast, and create emotions and get on stage to exchange them with an audience", Greece's W.E.B. have steadily forged a path to becoming one of the premier European symphonic extreme metal bands. With four albums under their collective belt, they return in 2021 with fifth full-length 'Colosseum', their biggest and most direct work to date. Combining the brutal with the catchy, and drenching it in orchestrations that only serve to expand the epic scale it makes for a thrilling, gripping listen, each of the nine tracks playing an important part in the album as a whole, and making it clear that W.E.B. stand toe-to-toe with anyone in their genre. Lyrically drawn to darkness and horror, as well as revolving around the occult and having a philosophical aspect, the band look to "whatever shakes the foundations of our souls, anything that we hate, everything that we praise," and on 'Colosseum', they give the listener a lot to think about.
The album was recorded, mixed and mastered in Sound Abuse Production Studio in Athens by Psychon and produced by Sakis Prekas. Going into this record, the band welcomed two new members into the fold, drummer Nikitas Mandolas, who joined right after the recording of 2017's 'Tartarus' and whose playing is perfectly suited to the music W.E.B. make, and bassist/vocalist Hel Pyre. The dramatic orchestrations are, of course, a large part of that, Christos Antoniou of Septicflesh handling this aspect of the sound as he has on previous W.E.B. releases.
**Actual vinyl color may differ from mock**
Metal Blade Records Item #158111
Code: WEB-Colosseum-2021
Share