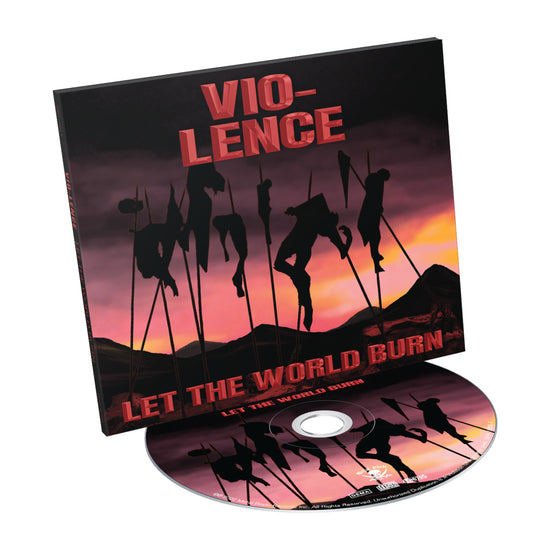 Vio-lence "Let the World Burn" CD
Regular price

Sale price

$11.99

Unit price

per
Usually ships in 1 business days. This may be affected by holidays, promotions, local weather, etc.
Vio-Lence "Let the World Burn" CD
-Officially licensed Vio-Lence merchandise
01. Flesh from Bone
02. Screaming Always
03. Upon Their Cross
04. Gato Negro
05. Let the World Burn
CD Features:
+ Digipak CD
+ 8-Page Booklet
+ European Import
Formed in 1985, Oakland thrashers Vio-Lence helped define and refine what came to be known as the Bay Area sound, dropping three seminal albums before splitting in 1993. Leaving behind a heady legacy, they reformed briefly a couple of times in the intervening years before becoming a full-time going concern once more in 2019. After playing a string of successful shows, the quintet started to think about new music and in 2022 they deliver "Let the World Burn", a five-song EP showcasing their first new material in 29 years, which delivers on the classic Vio-Lence sound. "That came very naturally," states founding guitarist Phil Demmel. "I hadn't written a lot of thrash in the past 17 years or so but being the main songwriter for the band over the years I wanted that sound, I wanted that mid-80s raw thing, but I also wanted to capture our signature notes and structures and stuff like that." Elaborates vocalist Sean Killian, "Each song has its own individual sound, they are all very thrash metal, there are grinding riffs, technical riffs, and plenty of speed. The lyrics are written freely with no restrictions and without compromise while the vocal patterns are typically unusual and delivered with a multitude of emotions.
Metal Blade Records Item #158252
Code: Vio-Lence-LetTheWorldBurn-2022
Share