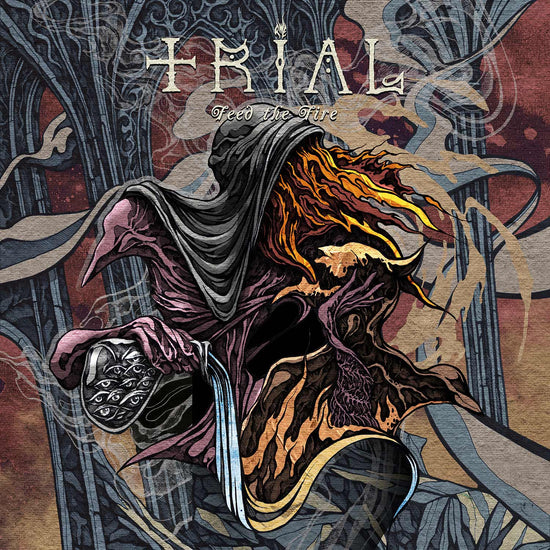 Trial (swe) "Feed the Fire (Wood Brown Marbled Vinyl)" 12"
Regular price

Sale price

$29.99

Unit price

per
Usually ships in 1 business days. This may be affected by holidays, promotions, local weather, etc.
Trial (swe) "Feed the Fire" 12" Vinyl
-Officially licensed Trial (swe) merchandise
SIDE A
01. Tria Prima
02. Sulphery
03. Thrice Great Path
04. In the Highest
05. Snare of the Fowler
SIDE B
06. Feed the Fire
07. The Faustus Hood
08. Quadrivium
09. The Crystal Sea
Vinyl Features:
+ Wood Brown Marbled Vinyl
+ Single Jacket
+ 2-Sided Insert
+ Digital Download Card
+ Limited Edition European Import
Twin guitars, romping rhythms, towering vocals and distinctive melodies - heavy metal is alive and well in the hands of Trial (Swe). Returning five years after 2017's 'Motherless' with new vocalist Arthur W. Andersson on board, the quintet is hungry, and it shows in the tracks that comprise the mighty 'Feed The Fire', perhaps the most urgent record in their repertoire. "Hearing Arthur's voice made me want to write more up-tempo songs," explains lead guitarist Alexander Ellström. "That desire didn't occur to me prior to him joining. We owe him a lot in shaping the new record after his voice. The result is a fast-paced, ferocious yet melodic album, and is about giving everything for something you hold dear, and letting it ruin you. This is visualised through a canticle of a goddess. For me, the goddess is very specific, I know who the goddess is, and what she means for me. Are you willing to find your equivalent and let it engulf you? I will happily feed the fire knowing what I get in return."
**Actual vinyl color may differ from mock**
Metal Blade Records Item #160206
Code: Trial-Fire-2022
Share