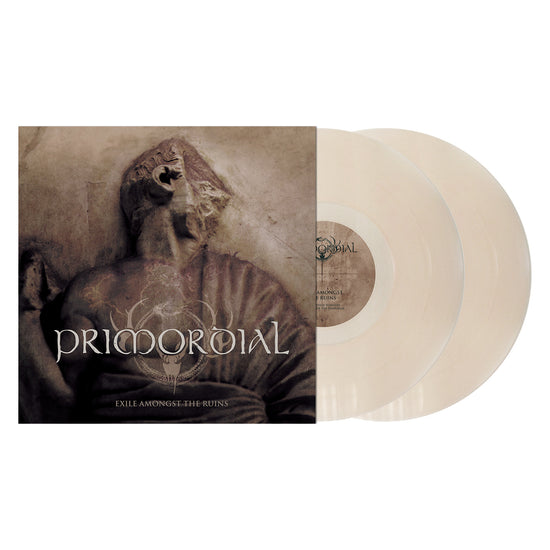 Primordial "Exile Amongst the Ruins (Tan Clear Vinyl)" 2x12"
Regular price

Sale price

$34.99

Unit price

per
Usually ships in 1 business days. This may be affected by holidays, promotions, local weather, etc.
SIDE A
01. Nail Their Tongues
02. To Hell or the Hangman
SIDE B
03. Where Lie the Gods
04. Exile Amongst the Ruins
SIDE C
05. Upon Our Spiritual Deathbed
06. Stolen Years
SIDE D
07. Sunken Lungs
08. Last Call
Vinyl Features:
+ Tan Clear Double Vinyl
+ Gatefold Jacket w/ 2-Sided Insert
+ Digital Download Card
+ A1 Size Poster (23" x 33")
+ European Import (Limited to 200 Copies)
2018 marks the twenty-seventh year of Primordial's seminal career, and returning with their ninth full-length, "Exile Amongst the Ruins," they have lost none of their vitality. Once again building upon their signature sound, the follow up to 2014's "Where Greater Men Have Fallen" is a more raw, "old school sounding" record than its predecessor. Hitting home with what vocalist A.A. Nemtheanga describes as "a direct energy" and wielding an urgency that is undeniable, the Irish quintet once again effortlessly blend elements of Celtic folk and black metal like no one else. Likewise, the evolution in their sound continues to be organic and unforced, ensuring that "Exile Amongst the Ruins" is essential listening for both their long term faithful and those only now drawn into their world.
Metal Blade Records Item #155509
Code: Primordial-Ruins-2018
Share