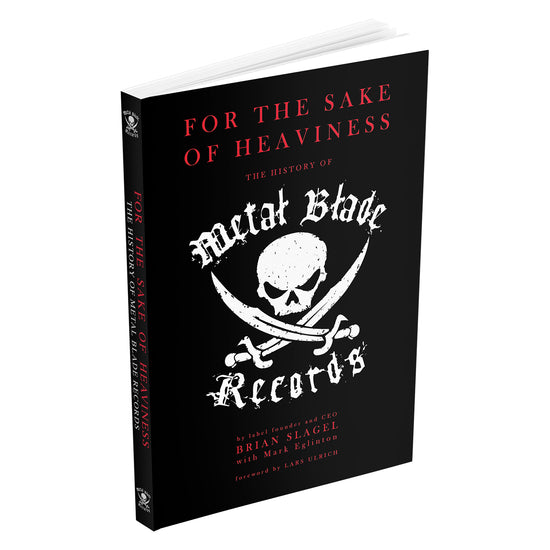 Metal Blade Records "35th Anniversary Box Set" Boxset
Regular price

Sale price

$39.99

Unit price

per
BOX SET INCLUDES INCLUDES:
===================
• "For the Sake of Heaviness: The History of Metal Blade Records" Book
• "For the Sake of Heaviness" Cassette
• Metal Blade Records 35th Anniversary Bookmark
• Bookplate autographed by Brian Slagel
• Box Dimensions (9.375" x 6.375" x 1.25")
Cassette:
==================
SIDE A
01. Fates Warning "Guardian"
02. Lizzy Borden "Lord of the Flies"
03. Omen "Holy Martyr"
04. Cirith Ungol "Black Machine"
05. GWAR "Gor-Gor"
06. Cannibal Corpse "Stripped, Raped, and Strangled"
07. Six Feet Under "War Is Coming"
SIDE B
01. Mercyful Fate "Egypt"
02. King Diamond "Voodoo"
03. The Black Dahlia Murder "Funeral Thirst"
04. Unearth "Black Hearts Now Reign"
05. Amon Amarth "Twilight of the Thunder God"
06. Visigoth "From the Arcane Mists of Prophecy"
Metal Blade Records and BMG will release For the Sake of Heaviness: the History of Metal Blade Records - written by label founder and CEO Brian Slagel with Mark Eglinton, and featuring a foreword by Metallica's Lars Ulrich. Celebrating the storied label's 35th anniversary, For the Sake of Heaviness is an inside look at how Slagel built Metal Blade from a one-man operation in his mom's non-air-conditioned garage to the preeminent international home of heavy music that it is today.
For the Sake of Heaviness pulls back the curtain to reveal the definitive look at how Metal Blade began, what they've accomplished, and where they're going. Slagel reveals the early advice he gave that helped guide Motley Crue's career; how he helped Metallica replace their bassist - twice; his detailed work on Thin Lizzy and Alice Cooper re-issues; his behind-the-scenes role in the careers of Slayer, GWAR, Mother Love Bone, Alice in Chains, Faith No More, Goo Goo Dolls, and Lamb of God; and his unlikely ventures with kindred metal heads - from hockey star Ken Baumgartner, to celebrity chef Chris Santos, to The Howard Stern Show's Richard Christy, to comedians Jim Florentine, Don Jamieson and Jim Breuer.
Slagel comments: "I have been asked many times about doing a book about the history of Metal Blade and it just seemed like a cool thing to do to document the 35th anniversary. You never really stop to think about a lot of this stuff, so doing the book is a great way of looking back at how many awesome things have happened to me and Metal Blade. We have had a long relationship with BMG and with their new move in book publishing, it all seemed like perfect timing. Being able to work with their team really made the final decision to actually do the book. I am really happy with the way it came out and I hope everyone out there enjoys it as well!"
Metal Blade Records Item #250510
Code: MBR-35th-Book
Code: MBR-Xmas-2018
Share