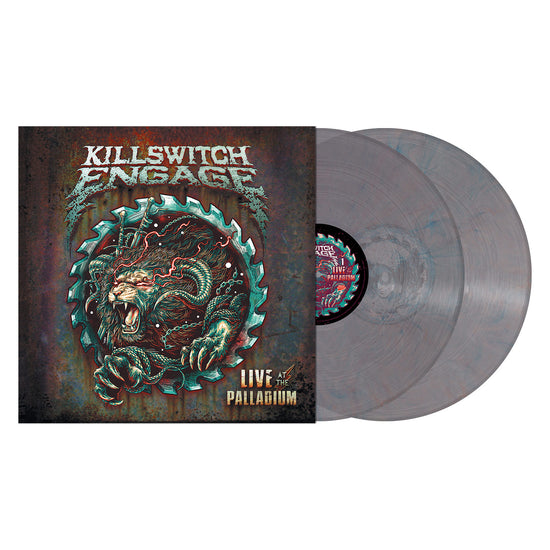 Killswitch Engage "Live at the Palladium (Lilac Blue Marbled Vinyl)" 2x12"
Regular price

Sale price

$37.99

Unit price

per
Usually ships in 1 business days. This may be affected by holidays, promotions, local weather, etc.
Killswitch Engage "Live at the Palladium" 2x12" Vinyl
-Officially licensed Killswitch Engage merchandise
SIDE A
01. Unleashed
02. The Signal Fire
03. Us Against the World
04. The Crownless King
05. I Am Broken Too
06. As Sure as the Sun Will Rise
SIDE B
07. Know Your Enemy
08. Take Control
09. Ravenous
10. I Can't Be the Only One
11. Bite the Hand That Feeds
SIDE C
01. Temple from the Within
02. Vide Infra
03. Irreversal
04. Rusted Embrace
SIDE D
05. Prelude
06. Soilborn
07. Numb Sickened Eyes
08. In the Unblind
09. Just Barely Breathing
Vinyl Features:
+ Clear Lilac Blue Marbled Vinyl
+ Gatefold Jacket
+ A1 Size Poster (~23.4" x 33.1")
+ 2-Sided Insert
+ Digital Download Card
+ Limited Edition European Import
The Palladium in Worcester, MA has been the site of so many memorable and iconic Killswitch Engage shows throughout the band's twenty-two year history. Whether it was their very first show in 1999, their live DVD performance in 2005, countless New England Metal & Hardcore Fests, and of course Jesse Leach's first show back in 2012, the band and the venue will always have a special bond.
So in mid-summer 2021, after being off the road and away from each other for over 15 months (due to the pandemic), it only made sense that The Palladium be the reunion site for a very special streaming event! This performance features KsE's latest album "Atonement" and a "back to their roots" performance of their very first self-titled album. With some surprises along the way, Killswitch Engage presents: Live at the Palladium
Metal Blade Records Item #160086
Code: KSE-Palladium-2022
Share