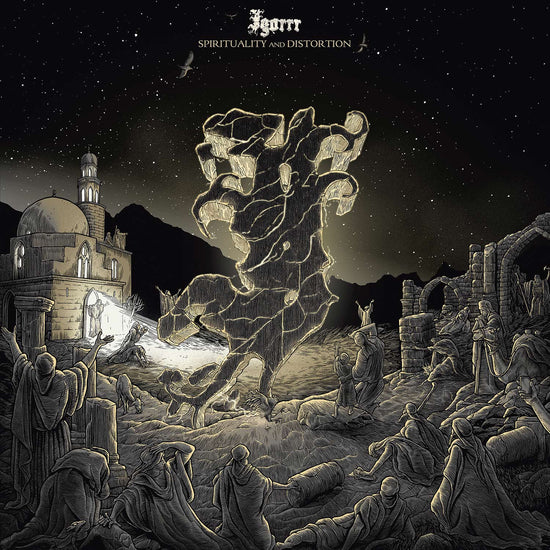 Igorrr "Spirituality and Distortion (Magma Vinyl)" 2x12"
Regular price

Sale price

$37.99

Unit price

per
SIDE A
01. Downgrade Desert
02. Nervous Waltz
03. Very Noise
04. Hollow Tree
05. Camel Dancefloor
SIDE B
06. Parpaing
07. Musette Maximum
08. Himalaya Massive Ritual
SIDE C
09. Lost in Introspection
10. Overweight Poesy
11. Paranoid Bulldozer Italiano
SIDE D
12. Barocco Satani
13. Polyphonic Rust
14. Kung-Fu Chèvre
Vinyl Features:
+ Magma Vinyl (Red / Black Marbled)
+ Die-Cut Gatefold Jacket
+ Full-Color Sleeves
+ Digital Download Card
+ Limited Edition (1100 Copies)
With 2017's "Savage Sinusoid", Igorrr more than proved to be a truly unique musical force - and 2020's "Spirituality And Distortion" cements that well-earned reputation. Slamming together disparate musical styles ranging from death and black metal to breakcore, Balkan, baroque and classical music in a manner that is as unconventional and unpredictable as it is thrilling, Igorrr are unlike any other act, and "Spirituality And Distortion" displays just as broad a range of emotions as sounds. "Getting stuck in only one emotion is very boring to me; life is a wide range of emotions - sometimes you're happy, sometimes you're sad, angry, pissed off, nostalgic or blown away," states mastermind Gautier Serre. "Life is not only one color. These 14 tracks are a journey through different states of mind I've been through."
Metal Blade Records Item #251421
Code: Igorrr-2020
Share