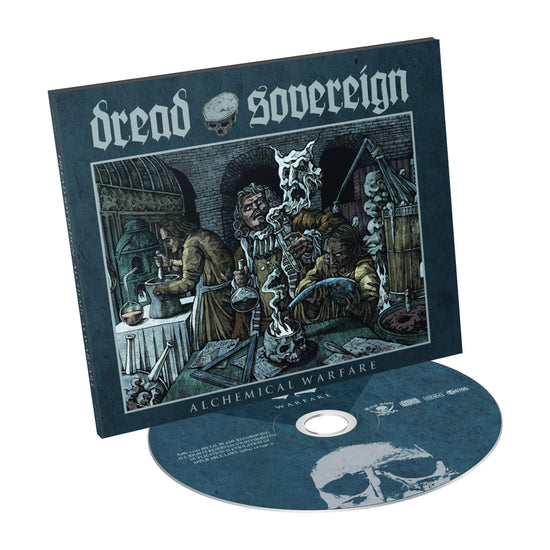 Dread Sovereign "Alchemical Warfare" CD
Regular price

Sale price

$11.99

Unit price

per
Usually ships in 1 business days. This may be affected by holidays, promotions, local weather, etc.
01. A Curse on Men
02. She Wolves of the Savage Season
03. The Great Beast We Serve
04. Nature Is the Devil's Church
05. Her Master's Voice
06. Viral Tomb
07. Devil's Bane
08. Ruin Upon the Temple Mount
09. You Don't Move Me (I Don't Give a Fuck)
Dread Sovereign was formed in Dublin, Ireland in 2013 by Primordial vocalist Nemtheanga to give praise to filthy cult old doom, black and heavy metal. Their first EP - 2013's 'Pray to the Devil in Man' - came out on Roadburn/Burning World Records to coincide with the band's live debut. Soon after, two full-lengths were released by Van Records: 'All Hell's Martyrs' (2014) and 'For Doom the Bell Tolls' (2017). And now, in early 2021, the band will release their new album, 'Alchemical Warfare', through Metal Blade Records.

"Our motto when we started was 'The World is Doomed'...and it seems life is imitating art...as we are looking like filthy prophets!" says vocalist/bassist Nemtheanga. "Several years in the making, the new Dread Sovereign is ready for the End of the World, which might be next year in case you didn't know! A bit more reckless and up-tempo than the previous releases, yet the template remains doom, 'Alchemical Warfare' just has a bit more Venom and Motorhead thrown into the mix. If it's the end of days we might as well go out with middle fingers raised right?"
Metal Blade Records Item #157492
Code: DreadSovereign-2021
Share