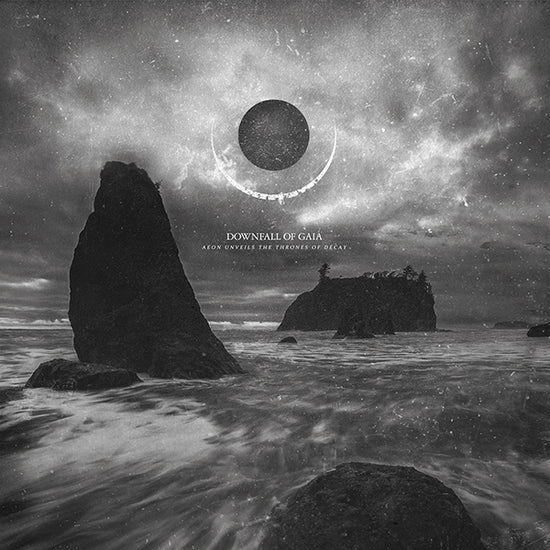 Downfall of Gaia "Aeon Unveils the Thrones of Decay" 2x12"
Regular price

Sale price

$32.99

Unit price

per
Usually ships in 1 business days. This may be affected by holidays, promotions, local weather, etc.
SIDE A
01. Darkness Inflames These Sapphire Eyes
02. Carved into Shadows
SIDE B
03. Ascending the Throne
04. Of Stillness and Solitude
05. To Carry Myself to the Grave
SIDE C
06. Whispers of Aeon
07. Excavated
SIDE D
Etched
Vinyl Features:
+ Gatefold Double Vinyl
+ 180g Black Vinyl w/ Etching
+ Limited Edition European Import
A dark wall, moving forward relentlessly, surrounding you, absorbing your spirit to take you into the realm of Downfall of Gaia's powerful sound.
Founded in 2008 and having undergone several changes on drums, the quartet is now comprised of Dominik Goncalves dos Reis (guitar and vocals), Peter Wolff (guitar and vocals), Anton Lisovoj (bass and vocals) and Michael Kadnar (drums), who are respectively located in Berlin, Hamburg and even New York City.
Although the group's roots lie within the Crust Punk scene, they are by now associated with a sound that rather corresponds to the impact of an avalanche made from black earth, rock and dirty sludge while their lyrics poetically describe the dark side of being.
In 2014, the band entered '79 Sound Studio in Cologne and started working on new material. The results were mixed at renowned Atomic Garden Studio in the San Francisco Bay Area and mastered in Portland, Oregon, at notorious Audiosiege Studio. Finally, the new masterpiece is completed and ready to ravage eager listeners. Once again, the band has developed a concept. The album addresses probably mankind's most powerful enemy: time, which passes without mercy. Therefore, Downfall of Gaia refrain from any calm moments, let alone pauses, but go full throttle straight away on this new album called "Aeon Unveils The Thrones Of Decay".
Metal Blade Records item #153351
Share