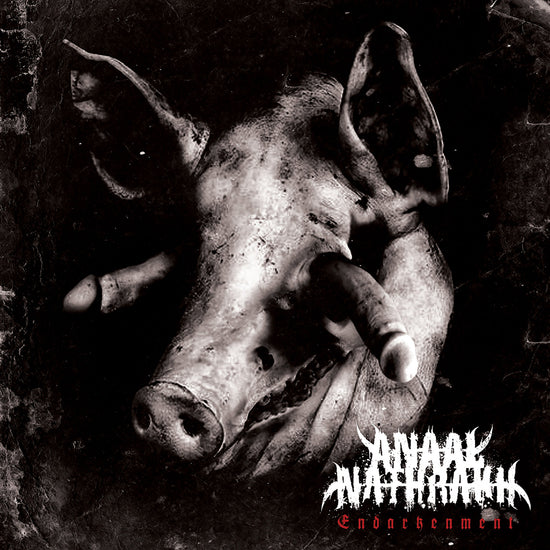 Anaal Nathrakh "Endarkenment (Sperm Vinyl)" 12"
Regular price

Sale price

$24.99

Unit price

per
Usually ships in 1 business days. This may be affected by holidays, promotions, local weather, etc.
SIDE A
01. Endarkenment
02. Thus, Always, to Tyrants
03. The Age of Starlight Ends
04. Libidinous (A Pig with Cocks in Its Eyes)
05. Beyond Words
SIDE B
06. Feeding the Death Machine
07. Create Art, Though the World May Perish
08. Singularity
09. Punish Them
10. Requiem
Vinyl Features:
+ Clear Sperm White Marbled Vinyl
+ Single Jacket
+ 2-Sided Insert
+ Digital Download Card
+ Limited Edition European Import
Extremity has been Anaal Nathrakh's stock in trade for more than two decades, and with 11th album, Endarkenment, they maintain their legacy of aural devastation. However, for all the furor they stir up, the duo have never been a two-dimensional entity, with a great deal of depth involved in everything that they do, and on many levels the new record is distinguished from its predecessors. "I think in terms of feel, it's brighter, more open and direct than maybe we've been in the past," states vocalist Dave Hunt. "Obviously I don't mean it's happy-go-lucky sounding, or suggestive of a sunny disposition. I mean something more like it burns with light rather than glowers with darkness. It's coruscating." The evolution since 2018's towering A New Kind Of Horror has been personal and profound, and is very much in line with that experienced by many of their listeners. "Personally, I feel more cynical, more bitter, with a greater sense that the world is fucked, and is continually re-fucked by people who have no idea what they are doing. Musically, I think we're more mature - not less frenetic, but better able to channel our energies where they'll be most effective. That's an ongoing process, you never finish growing into what you're doing and being better able to push at the edges of what you can do. But we aren't interested in evolving what we do, only how we do it. We remain unlike the vast majority of other bands in our sound, and we're proud of what we do."
Metal Blade Records Item #157268
Code: AnaalNathrakh-Endarkenment-2020
Share