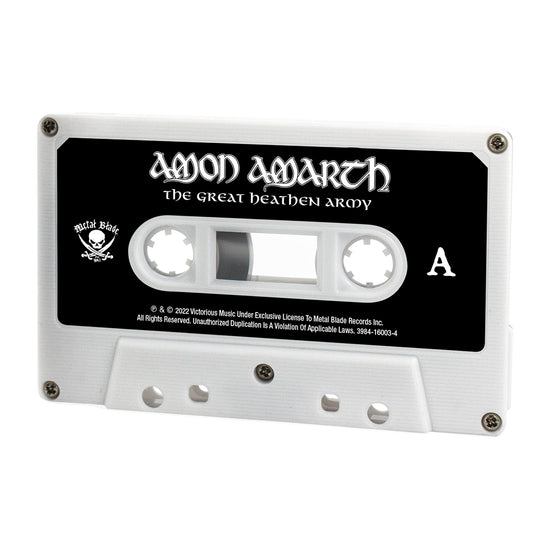 Amon Amarth "The Great Heathen Army" Cassette
Regular price

Sale price

$13.99

Unit price

per
Usually ships in 1 business days. This may be affected by holidays, promotions, local weather, etc.
Amon Amarth "The Great Heathen Army" Cassette
-Officially licensed Amon Amarth merchandise
SIDE A
01. Get in the Ring
02. The Great Heathen Army
03. Heidrun
04. Oden Owns You All
05. Find a Way or Make One
SIDE B
06. Dawn of Norsemen
07. Saxons and Vikings
08. Skagul Rides with Me
09. The Serpent's Trail
Cassette Features:
+ White Colored Tape
+ 6-Panel Jcard
+ Limited Edition European Import
One of the best-loved metal bands in the world, Amon Amarth are firmly dedicated to aiming high when they hit the studio. Recorded with esteemed studio guru Andy Sneap at the controls, 'The Great Heathen Army' represents another bold leap forward for the band, as their trademark sound undergoes yet another skillful, evolutionary overhaul, both lyrically and musically. From the noisily rabble-rousing "Find a Way or Make One" and the pummelling, pugilistic "Get in the Ring", to the evocative fury of "Saxons and Vikings" and the cinematic squall of the title track, 'The Great Heathen Army' encapsulates the essence of this legendary band, while still allowing acres of space for new ideas.
Metal Blade Records Item #160034
Code: TheGreatHeathenArmy-2022
Share