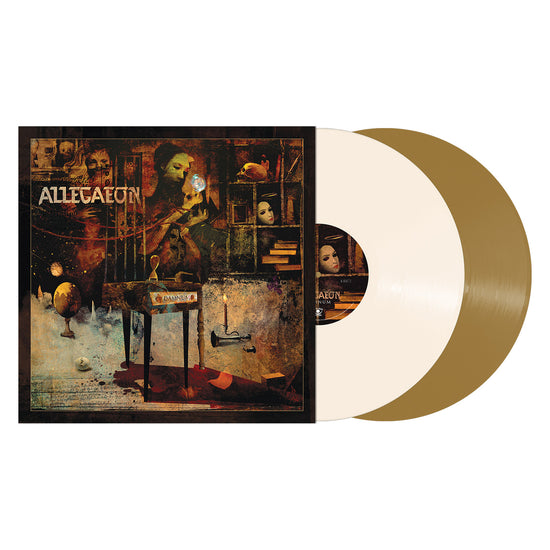 Allegaeon "DAMNUM (Bone/Gold Vinyl)" 2x12"
Regular price

$34.99

Sale price

$19.82

Unit price

per
Usually ships in 1 business days. This may be affected by holidays, promotions, local weather, etc.
Allegaeon "DAMNUM" 12" Vinyl
-Officially licensed Allegaeon merchandise
SIDE A
01. Bastards of the Earth
02. Of Beasts and Worms
SIDE B
03. Into Embers
04. To Carry My Grief Through Torpor and Silence
05. Vermin
SIDE C
06. Called Home
07. Blight
SIDE D
08. The Dopamine Void, Pt. I
09. The Dopamine Void, Pt. II
10. Saturnine
11. In Mourning
12. Only Loss
Vinyl Features:
+ Bone / Gold Vinyl
+ Gatefold Jacket
+ 2-Sided Insert
+ Digital Download Card
The title DAMNUM is Latin for 'loss', which fits many of the lyrical themes explored on the album. "The band experienced a lot of death within our personal lives, and it colored the album," explains Burgess. For McShane, centering his lyrics on processing sadness, anger, grief, and loneliness, his intention is that some people might take solace in the words and use them as a resource to cope with their own experiences. "We all experienced something over these past couple of years that took a lot out of us emotionally, and as musicians, we tend to turn to our art to process those emotions. Throughout the album, there are many metaphors for mental health and my hope with these lyrics is to have them be relatable to listeners and show them that they're not alone when they're experiencing the gamut of negative emotions - someone else is out there feeling the same way. Facing some things about my experiences in life and in music over the past few years brought me to a few very intense moments of reflection and emotional overload and getting through those moments was often much harder than anticipated."
**Actual vinyl color may differ from mock**
Metal Blade Records Item #158166
Code: Allegaeon-DAMNUM-2022
Share